What is Novel Food and how does it affect your business?
Any products that have not been widely consumed in Europe before 1997 are considered Novel Foods.
In January 2019, all products containing CBD was added to the Novel Foods catalogue, thus changing its legal status to Novel Foods.
In order for you to market and sell a product that are categorised as Novel Foods, you are legally required to have a pre-market assessment and a valid Novel Foods authorisation.
Good News is that the FSA has granted the UK CBD industry a grace period to obtain the authorisation. The deadline is 31st March 2021, but after that you will not be able to legally sell any CBD products that does not have an approved Novel Foods authorisation.
More Good News is that the onus has been put on the supplier/producer, not the reseller or the brand itself. So now is the time for you to contact your current supplier to ensure that they have started the necessary data collecting process, and have allocated the funds needed to complete it - or start looking around for a replacement supplier that can more or less guarantee compliance to avoid any disruption to your sales.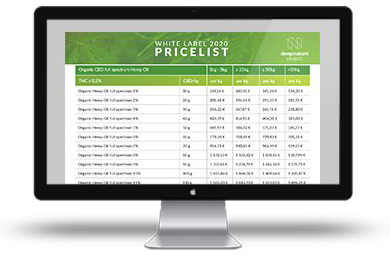 UK Portal
The UK portal starts accepting applications from 1st January 2021 - but your supplier should already have started the process by now.
Questions and applications should be sent to: novelfoods@food.gov.uk.

Deadline
The deadline does not come in to affect until 31st March 2021. But after that, only products for which a valid application has been approved are allowed to remain on the market.
Good News is that the UK authorities has adopted the exact same legal frame-work as their EU counterpart – which means; if your supplier already has an authorised EU Novel Foods application, they can use the same one without needing to make any costly changes to it.
The In order to compose the required dossier for the approval of the FSA, there is a large amount of mandatory data collection required as a prerequisite. The details of which are presented graphically below.
Estimate time: 2 years
Estimate cost: £150,000
Contact us
If you are concerned that your current supplier will not meet the FSA's deadline, contact us now and we will help you free of charge by putting you in contact with a Novel Food complaint supplier that can fulfil your business needs.