LIMITED TIME OFFER: Get a free cannabis cream of your choice when you purchase a CBD Oil or CBD Spray. Simply select which of the cannabis creams from the "Introductory Offer - Free Cannabis Cream" dropdown and we will ship this woth your order. Terms apply.

Herts Hemp - CBD Spray
4x Faster Acting / 4x More Absorption
500mg CBD Spray, 20ml - [ UPC: 0787269334106 ]
£35.00
CBD Isolate / BioZorb Oil
500mg CBD in Total
Approximately 5mg CBD per spray
1000mg CBD Spray, 20ml - [ UPC: 0787269334113]
£55.00
CBD Isolate / BioZorb Oil
1000mg CBD in Total
Approximately 10mg CBD per spray
Recommended Use:
- Shake before use
- Spray underneath the tongue
- Hold for 30 seconds before swallow
- Do not exceed 70mg per day
---
Did you know?
Unlike other oil-based CBD drops, Herts Hemp's spray range is powered by BioZorb, a unique proprietary CBD solution resulting in 4x More Absorption.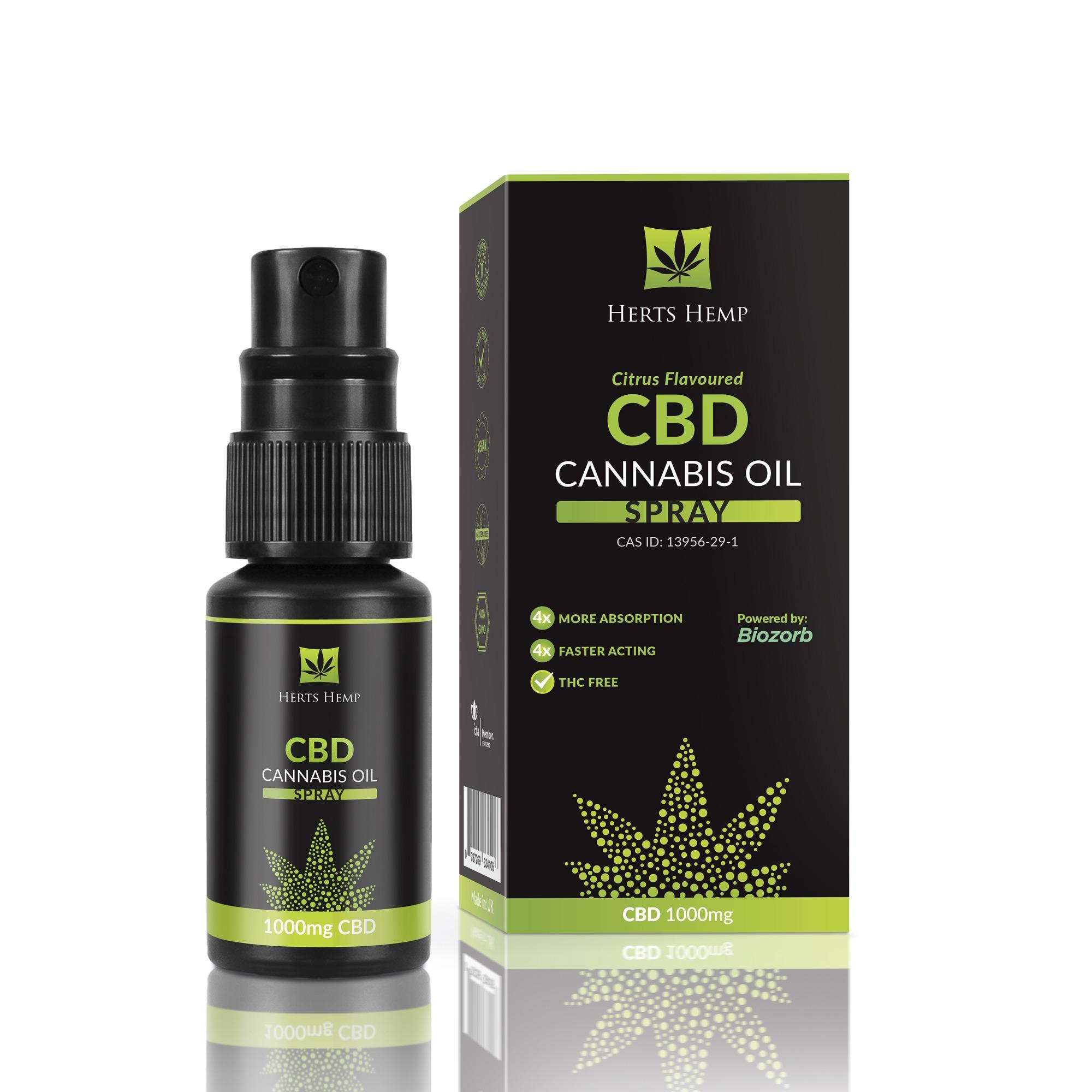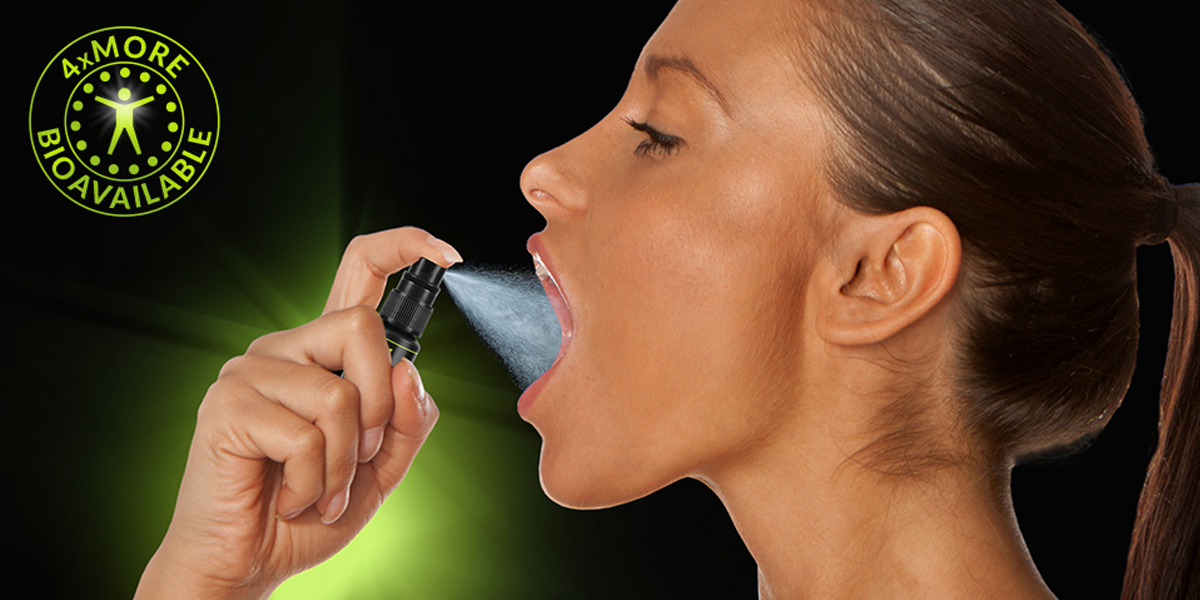 Herts Hemp - CBD Spray
By utilizing the power of Biozorb™, Herts Hemp's spray range is up to 4x More Bioavailable than standard tincture oils. This allows the CBD to interact with your endocannabinoid system more efficiently and effectively. It also makes your spray 4x more potent than the equivalent
milligram concentration of standard tinctures, meaning you get more value for your hard-earned money.
Bioavailability
The term "bioavailability" means; the percentage of CBD consumed which is absorbed into your bloodstream and has an active effect. 
Traditional CBD oil tinctures use Hemp seed oil or MCT oil as their carrier oil, both of which have a viscosity of ~30 Brookfield Units, viscosity being a measure of thickness. Although they are both effective, only a small proportion of the CBD ends up being absorbed into your system. A large quantity of CBD ends up being digested in the stomach once swallowed, because the thick oil cannot be fully absorbed sublingually. As a result of this, traditional CBD oil drops only have a bioavailability of ≤12-15%. However Hemp seed oil also contains Vitamin C, Iron, Calcium and other nutrients which are beneficial for the body.
In comparison, the viscosity of Biozorb™ is only 7 Brookfield units. The low viscosity of the oil generates a sub-micron level particle mist once our spray is activated. The Biozorb™ mist packed with CBD immediately absorbs into the bloodstream upon contact with the sublingual area and quickly begins to interact with your endocannabinoid system.
With direct absorption occurring in the mouth, little or no waste takes place in the digestive system. This revolutionary carrier solution has a bioavailability of ≥ 50%, which ensures a vast quantity of the CBD in each spray can be utilized by your endocannabinoid system to enrich your body and balance your mind.
Method of consumption Bioavailability (%)

---
Did you know?
Unlike other oil-based CBD drops, Herts Hemp's spray range is powered by BioZorb, a unique proprietary CBD solution resulting in 4x More Absorption.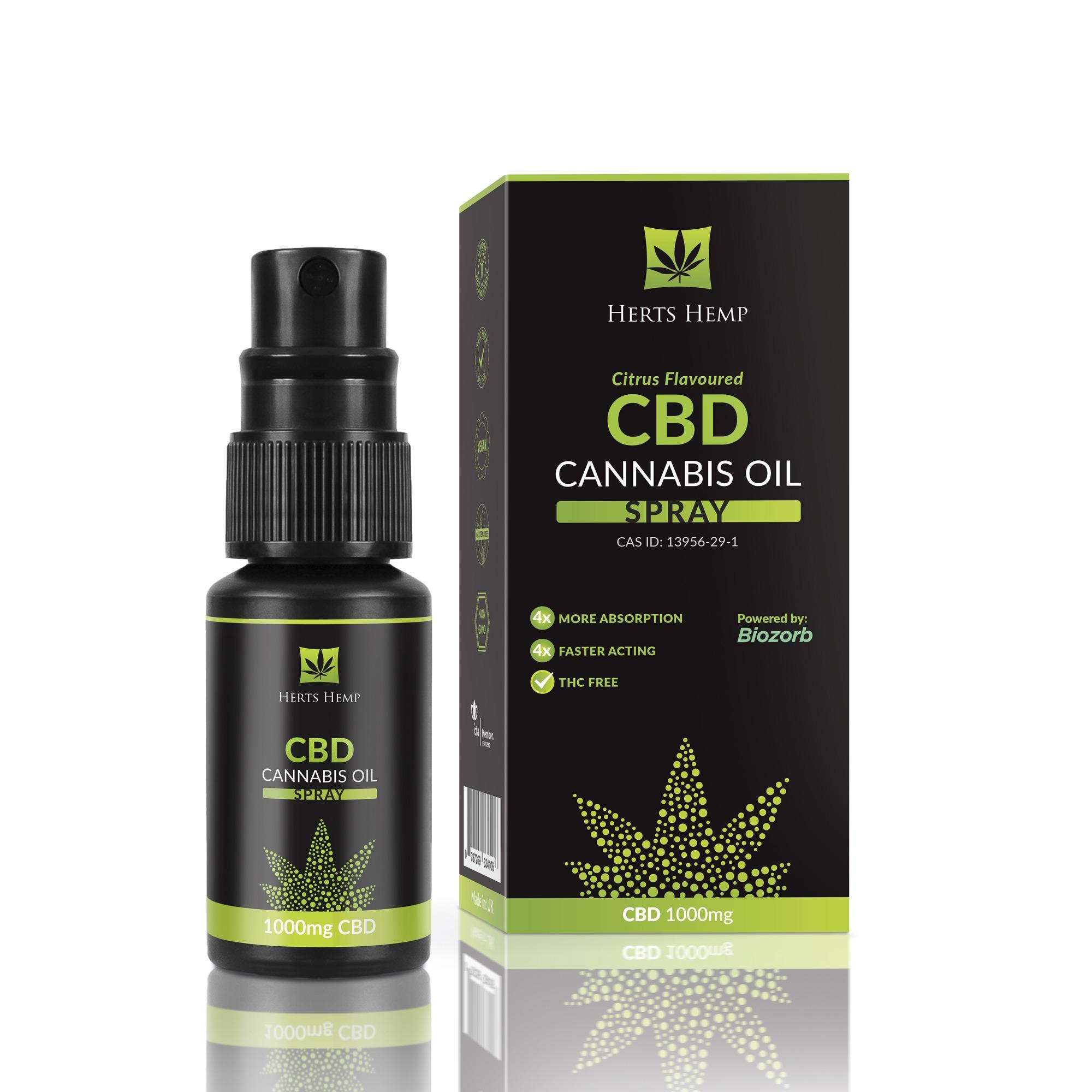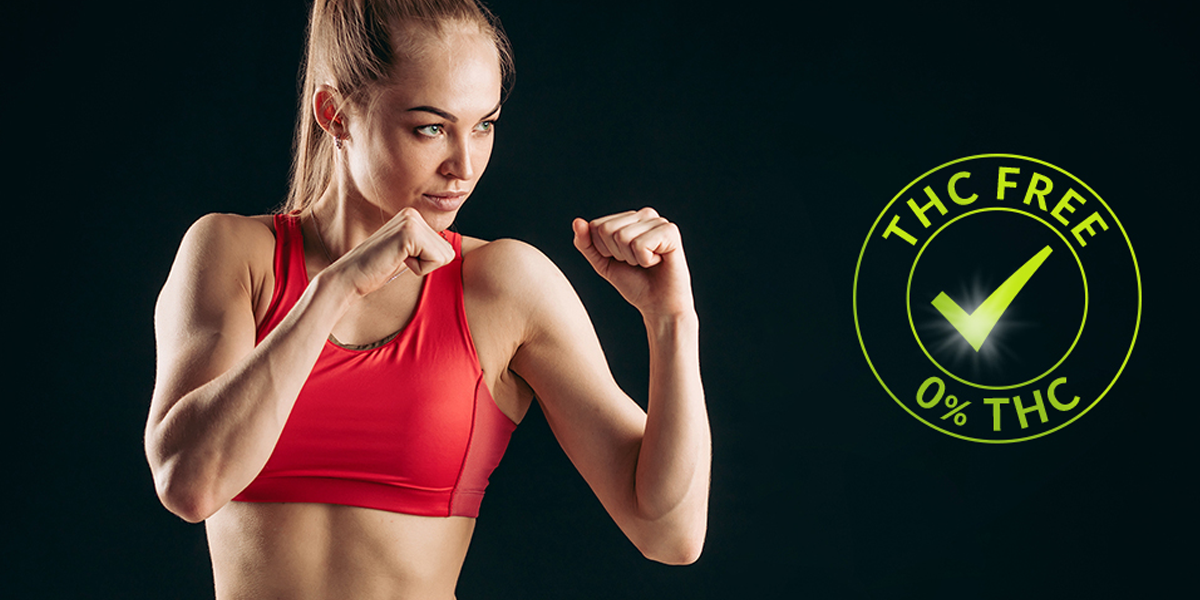 Herts Hemp - CBD Spray
THC Free - The Perfect Choice for Professional Athletes
Herts Hemp spray is made by mixing CBD isolate into Biozorb™ solution. CBD isolate is a crystalline substance which contains 99% pure CBD, and 0% THC. In order to obtain CBD isolate, we first obtain our full-spectrum hemp extract from the cannabis sativa L. plant using supercritical CO2 extraction. The extract then undergoes a refinement process which completely filters away any remaining trace amounts of THC and leaves nothing behind but CBD in its most purest form. 
The CBD crystals are then combined with the Biozorb™ carrier solution to create the most effective CBD product on the market, known as the Herts Hemp's 4x more bioavailable CBD Spray.
For more information about the difference between Full-spectrum and Isolate CBD, click here.
Ideal for Athletes
By using CBD isolate in our Herts Hemp spray, we can guarantee our spray range is ESIC, ESL & WADA compliant. That, together with the increased bioavailability of Biozorb™ technology makes our spray an essential supplement for any athlete to include in their training or game day routine. 
Herts Hemp CBD Spray begins interacting with your endocannabinoid system as soon as it makes contact with the underside of your tongue. It works efficiently to bring your body in to a state of homeostasis 4x Faster than other CBD product on the market. Once homeostasis is achieved, your body enters its optimal functioning condition which will assist you to achieve your maximum potential during training and competition. 
By maintaining homeostasis, your mind becomes more balanced and less susceptible to performance anxiety, allowing you to clutch a win even within in the most high-pressure situations.
The spray has been designed with convenience in mind, engineered for athletes to use quickly during any activity, so it can be used in the heat of gameplay, between training sessions - whether you're warming up and cooling down.
Herts Hemp spray not only improves your performance during training and competitions, but also aids your recovery after you have pushed yourself to the limits. The CBD utilizes your endocannabinoid system fully to offer instant relief from inflammation and pain without any side effects - unlike ibuprofen and other over the counter medications.
---
Did you know?
Cannabidiol (CBD) is the only cannabinoid approved by WADA. Therefore, a CBD only product such as Herts Hemp's CBD Spray is the perfect choice for professional athletes for professional athletes.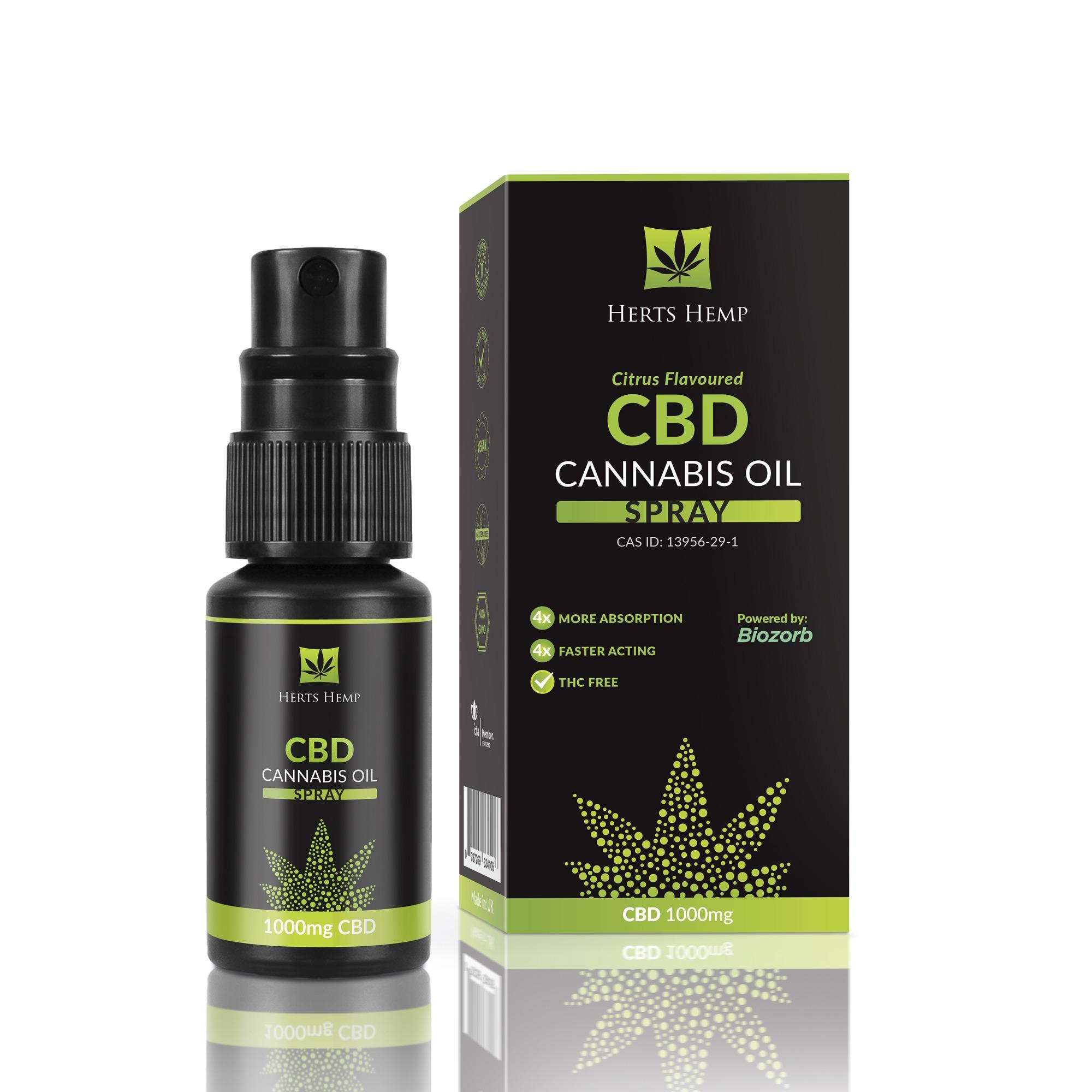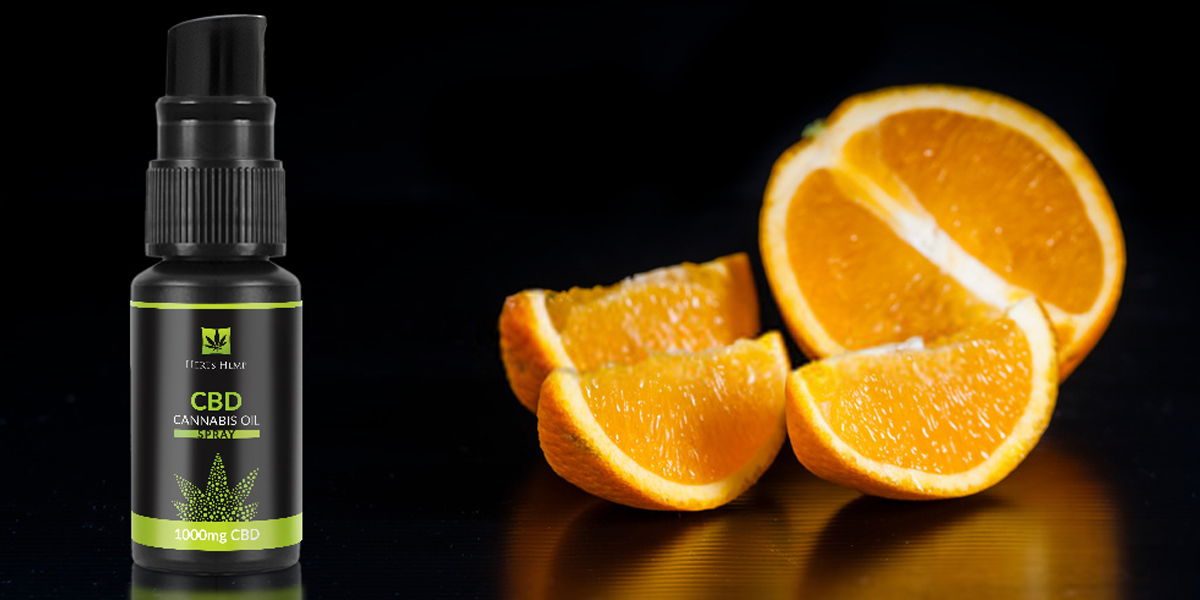 Herts Hemp - CBD Spray
Better Tasting and More Convenient
Customer feedback
Responding to customer feedback, Herts Hemp's spray has been specifically engineered with convenience in mind. Whilst traditional tinctures are certainly effective, we received feedback from some customers that it was difficult to use on the go or without standing if front of a mirror. With these comments in mind, we embarked on designing a more convenient option for those on the go...
Convenience & Taste
With our new spray bottle design, premium quality CBD is only a press of the finger away. Simply aim the spray nozzle underneath your tongue and press down on the top. This will release a fine atomized mist packed with CBD, which, because of the unique and proprietary BioZorb solution is quickly absorbed into your system - Quicker than any other CBD products on the market.
Furthermore, although some of us love the natural taste of hemp, a few of our customers mentioned they were not particularly keen on that earthy, natural and hempy taste. Taking this into account, we decided to add a refreshing citrus taste to our Herts Hemp spray range.
- CBD Isolate / BioZorb Oil / Citrus Flavoured
- 4x More Absorption / 4x Faster Acting
- Non GMO  /  Gluten Free  /  100% Vegetarian
- THC Free / WADA Approved / Suitable for Professional Athletes
---
Did you know?
You spoke, and we listened. Our latest addition to the Herts Hemp range is therefore better tasting and more convenient to use than traditional drops.